Measuring Guide
How do I know what quantity to order?
Measuring your room for new flooring may seem like a confusing task, though it does not need to be. The Flooring Centre has provided a step-by-step measuring guide designed to help you through the process with helpful hints and tips which will ensure you will order the correct material quantity. To begin you will need a pen or pencil, paper, a tape measure and calculator.
If you are still unsure, we offer a free estimating service.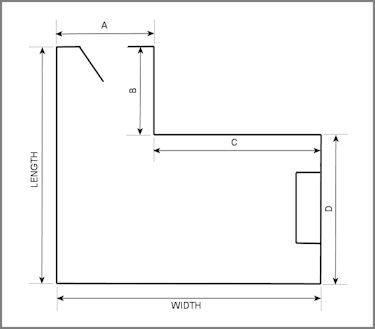 Broadloom Carpets
Draw a simple outline sketch showing the overall shape of the room and the positions of any doors and fireplaces (example of a room to the right).
For a simple room you only need to measure in centimetres the length and width of the room at the widest points - taking into account any bay windows or door entrances.
For 'L' shaped rooms you should also measure distances A, B, C and D as shown on the diagram to the right.
To allow for waste and cutting in during installation you will need to add 10 centimetres to each measurement to ensure sufficient carpet is available to flow into doorways (and under the door) as well as allowing for uneven walls.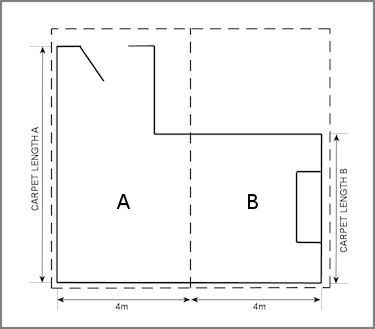 To calculate the total carpet required, divide the length or width of the room (including the 10 centimetres overlap) into 4m (400cm) or 5m (500cm) rolls widths, dependant on the width of the carpet you require. To add colour variations do not mix roll widths.


Next add up the total lengths created by this division of the room (as shown by sections A and B in the example diagram to the left) and round up to the nearest metre.


Alternatively please call our sales team on 01708 768675 and we can assist you on calculating the best fit for you.
Top Tips When Measuring A Carpet
Seams should run towards primary light sources where possible and be kept to a minimum where possible.
Seams should always be kept to a minimum and avoided where possible.
Always ensure the carpet runs in the same direction. If you change the direction then the pattern, texture and pile of the carpet will reflect light differently.
Always begin measurements in the centre of the doorways rather than the bottom of the walls.
Forget fireplaces and units as they won't affect the maximum measurement. Alcoves are the widest points of a room - think of chimney breasts and units as being cut out of what you have to buy.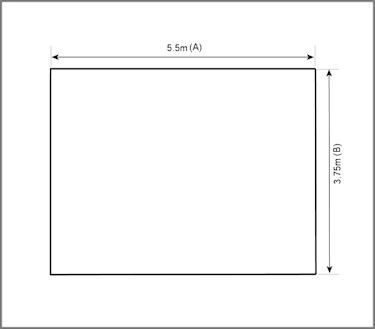 Wood/Laminate/LVT/Carpet Tiles
Begin by measuring the width and length of the room at the widest points (as indicated by measurements A and B on the diagram).


Multiply the two dimensions - e.g 5.50m x 3.75m = 20.625m2


Select the product you require and enter the area total (as advised above) and our calculator will calculate the total quantity in packs that you require.
NOTE: Don't forget to add a minimum of 10% to the net quantity. This allows for wastage